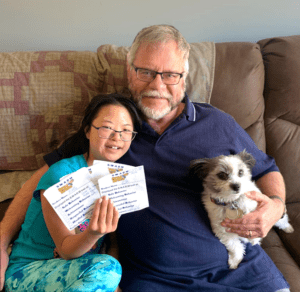 Peter & Ruth Worrall
I was born in the mission field in Papua New Guinea where my father (teacher) and mother (nurse) were serving as missionaries. After serving on a short missions trip in 2002, I joined YWAM as a full-time missionary in 2006. I am currently a full time missionary working with YWAM Associates International.

YWAM Associates International is a ministry of Youth With a Mission (YWAM), that works with people who served in YWAM or have been "touched" by YWAM. For example, children of former and current YWAMers or parents and friends of former and current YWAMers, all can be seen as a YWAM Associate. We are currently based in Medicine Hat, Alberta.

We have found that people who have served in YWAM find the transition back into the lives they once knew can be challenging. Our ministry tries to help make that transition a little smoother. YWAM Associates aims to encourage, equip and network YWAM Associates with the goal to help them see their place of employment, or business, or learning institution as a mission field. We also encourage them to use their unique life experiences in YWAM as a tool for reaching their community.

Sadly my wife Laurie passed suddenly in August of 2021. Laurie joined YWAM in 1976 when her parents, Peter & Donna Jordan, joined YWAM in Kona, Hawaii. In 1988 Peter & Donna were led to pioneer YWAM Associates in Vancouver, Canada. Laurie felt that she was to join with her parents in their mission. She was serving with YWAM Associates when she passed.

Laurie and I were married in 2006. In 2009 we adopted our daughter Ruth.

I take care of most of the "tech" needs for the ministry. YWAM Associates has a database of approximately 30,000 contacts. The task of maintaining that database is part of my responsibility as well as maintaining the ministry website and managing the email accounts for all of our staff.

YWAM Associates International is a Registered Canadian Charity, so I make sure that we fulfil our reporting obligations to the Charities Directorate of the Canada Revenue Agency as well as the Province of Alberta. I also help Mom Donna by taking care of the packaging and shipping of the resources for her "Listening To God" ministry.

My plans are to continue to serve Mom Donna, the YWAM Associates facilitators and the people who they touch for as long as The Lord directs us.

I am so thankful for the support, both prayers and financial from the Bethel Chapel community. Ruth and I live our lives totally month to month by faith. And God has always provided our needs.
We would like to pray for you, if you have any prayer needs. Please just let us know!

How to contact Pete & Ruth
Mailing address:
1629 29th St
Medicine Hat, Alberta
Canada T1A 2H8
Blog: https://petenlaurie.wordpress.com

If you feel God is asking you to support the Worrall's, and you would like a tax receipt, please make your cheque payable to "Youth With A Mission" and include a separate note with my name on it. Please send it to:

Project Funding Office,
PO Box 57100 RPO East Hastings,
Vancouver BC
CANADA V5K 5G6

There is an online method of supporting us if you prefer. Please contact me at my email address above, and I can give you those details.
We put together a video of our adoption journey. If you would like to watch that, click on this link. https://vimeo.com/27201533