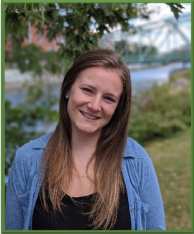 Anka Johow
Anka was born in a city called Wolfsburg in the middle of northern Germany, in 1987, and raised in a non-Christian family. God showed himself to her through other people from an early age on, and in this way, she learned a little about Jesus Christ. Not knowing much about the Gospel though, she experienced long years of brokenness, depression and emptiness in her upbringing and also university years through a lot of abuse in her family. Being led to Jesus by a close friend at age 26, (2013) her life started to change radically. As she surrendered to Christ and developed in her personal relationship with him, she experienced much healing and overcoming. She joined a small house church that provided her with great, personal discipleship and she was baptized in 2015. In the same year she decided to spend a gap year in Montreal to experience God by giving Him a year to live and serve in a different community. That is how God opened a door for her and she has ministered to students in Montreal for the past four years. First she worked with P2C (Power to Change) on Montreal's campuses, since May 2021 she has been involved in Ambrose House ministry with the CMA (Christian Missionary Alliance).
Issues like forgiveness, reconciliation and evangelism are very important to her and since she walked in much darkness herself, Anka has always had young women and their walk with Jesus on her heart. She has been blessed to see God use her as a vessel to help women to draw closer to Him and experience more life and freedom in their relationship with their Saviour. This was also the calling for her to work with young university and college students. God put Romans 6:1-10 on her heart in the beginning of her ministry in Montreal in 2018. Through this she was encouraged to help students to learn more about overcoming their sin and developing their new life in Christ. She has a great desire for both Christians and non-Christians to hear and experience more of this new life and the amazing grace that lies in the Gospel, so that they may heal, overcome and find their identity in the One who loves them unconditionally. In the very sensitive transition into adulthood and the challenging years of their lives as students being exposed to many different world views and lifestyles, a steady Christian guidance and support from role models is very crucial.
Anka currently lives and serves on-site with Ambrose House ministry, which is a Christian co-living space for Christian students from both McGill, Concordia and other campuses and young professionals. The old Victorian house that is conveniently located on Stanley Street downtown holds space for about 20 residents. The vision of Ambrose House centers around knowing Jesus more and resting in the relationship and love that only he can offer. Young Christians in the age of 18-30 are invited to live together and to experience the overflow of the Holy Spirit in all areas of life according to Acts 2:42-44. She is also discipling the female residents, one-on-one. Through this she is enabling them to serve the Christian student community downtown through small group Bible studies and larger community events, and helping them to evangelize and share the Gospel in their respective communities.
Anka's mission:
"The core aspect of all my work is to help the students and young people wrestle with tough questions of life and faith and to discover how Jesus wants to meet them in this. I believe that God's grace in the Gospel wants to provide the freedom and power to be a witness and light to all the world.
It is a beautiful testimony to these students and young people that the people of God's kingdom, who are supporting my ministry in prayer and financially, are standing together for them to help them find Jesus more and to learn to share their faith boldly."
Thanksgiving:
"I am very thankful for having Bethel Community Church stand behind me. I have seen God at work in extraordinary ways in the student's lives and I know that many in the church have prayed faithfully. Not having a Christian family myself that stands with me, this means a lot to me. Thank you for exemplifying Christ's love and faithfulness to me and to them."
Prayer request:
"Please pray that through the Holy Spirit I would continue to grow into being a good steward and vessel for God in this ministry, while I still overcome personal roadblocks myself. Especially those connected to a lot of abuse in my upbringing.
I would also love prayer for God to break down every barrier that students might have that hold them back from experiencing more life in Jesus Christ."
Ambrose House Testimonies:
Jia (Jason) Zheng Xu, 24
"You have no idea how Ambrose House shifted my perspective of the future, because before I was aiming for the same things my friends were aiming for: Money, success, position, power. But because of Ambrose these things are not my focus anymore. God brought me to Ambrose, I can always pray with people, continually. I know that I can just naturally come to God. Before when I had doubts and questions, it could rob me of my faith very easily, but at Ambrose I met God in such a way that even though I still have doubts and questions, since I have tasted Him, it doesn't take away the fact that He is real and that He is there for me. Now, I know in my heart that God is not only there, but that he gave his Son for us out of love."
Lucia Stroetzel, 22
"Living at Ambrose with many other young Christians has been such a blessing. I have been able to learn about Jesus and how he wants to meet me in my daily life by being together with the others, by praying, eating and reading the Bible with them. I have felt a steady peace, affirmation and vision over my life through being closer to Jesus and my relationship with him has been taken to another level. So much so that I have such a desire to tell others, my friends and colleagues, about God and the wonderful news of the Gospel, which I have seen lived out at Ambrose every day. I wish so many more young people could make this experience to have their faith even more rooted through this very special fellowship. Thank you so much to everyone who has given to this beautiful place to help me grow in my faith and to invite others to see Jesus as well."
Ministry needs:
I am trusting God with the financial aspect for my role at Ambrose House with the CMA.
This is our giving page for the house, which is also used to generate my support:
https://www.ambrosehouse.ca/
My contact information:
Cell: 514-582-1213 (I appreciate voice messages in case I am not available)
Thank you so much for sharing in this with me!
For we are God's fellow workers. You are God's field, God's building.

1 Corinthians 3:9 (ESV)