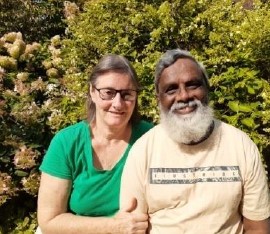 Benji: I was born in the Telangana State of India and I speak Telugu, my mother tongue. When I was 23 I had an encounter with God and was born again. By the grace of God, I never looked back. I was involved in outreach for some time, when the Lord guided me to do my Bachelor of Theology. After completion I was led to work in the mountainous northern state of Himachal. There I continued in Gospel outreach, teaching and preaching. By God's strength churches were planted in Himachal. The work spread to various parts of India including my home district in Warangal, south India.
A Relief and Development Project was started which took the participants from Cradle to Career, out of Poverty and into Dignity. Most are active in the Divine Commission.
At present the work is done through social media: to encourage, counsel and teach. As well, in conjunction with one of above participants, and also a spiritual son, we are making a series of Bible teaching videos on YouTube. So far the videos have been done in the Telugu language, but plans are to expand to Hindi and English.
Gill: A native of Montreal, I was saved at aged 7 at a children's meeting in Rosemount. Frontier Lodge camps exposed me to the fascination of missionary work. After three years training at the Montreal General Hospital I became a registered nurse, and shortly after I left for England. Here I was renewed spiritually, settled near Liverpool, and worked as a nurse and midwife. I immediately joined the outreach work in the neighbourhood surrounding the new church plant that my relatives were involved in, thus beginning my missionary training. From this rough and ready area in UK I was called to a far more difficult mission field. I was 9 years in England and I bless the Lord for the wonderful spiritual experience I had there.
In September 1980 I arrived in New Delhi, and went directly up to the Himalayan town of Manali to join Beryl, a senior missionary who worked with refugee Tibetans. Here Beryl and I designed a community health program with outreach to impoverished Indian, Tibetan, and Nepali communities. It was in Manali that I met my husband Benji who one year after I arrived, came to serve the Lord. After our marriage we served the Lord together in various areas, states and countries up to the present, as Benji explained above. I myself continue with an ongoing agro project for the benefit of subsistence farmers, and continue as medical and social advisory for the ongoing Relief and Development Project.
Participate with Benji and Gill
To participate in our ministry please make sure we send you a copy of our prayer letter (4+ times yearly) where you will find our prayer points. Find us on the map, and learn about the areas where we work.
Come over and pray with us, (covid permitting) or through social media
If the Lord leads you to contribute financially in our life of faith
1-contact us by email or phone
2- or find us on the Brethren Assemblies missionary website:
MSC Canada https://www.msccanada.org/donee-category/mission-workers/
(type in Benji and Gill Daniel in the box)
Phone: 514 783-1375