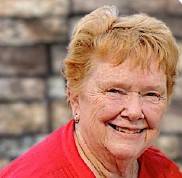 Donna was born in Guelph, Ontario and is blessed with a godly heritage. Her story is evidence of answered prayer as her great grandparents prayed Psalm 78:1-7 over their family (see below). She trained as an RN at Kitchener Waterloo Hospital. She married Peter Jordan in 1960. Peter was born in China of missionary parents and was also blessed with a godly heritage. His family was interned in Shanghai for over 3 years, teaching Peter valuable spiritual lessons of trust in his Heavenly Father.
Around 1969 Peter was transferred by his company to Montreal, so they moved with their three young daughters, making Bethel Chapel their home church. In 1976, Donna and Peter felt called by God to leave their home and employment in Montreal and to go to Hawaii to minister there with Youth With a Mission. They were sent out by the elders of Bethel Chapel. Laurie was 14, Julie 12, Michelle 8 and Pete, their adopted son, was 6 when they took this step of faith. This was the beginning of a life-long ministry. They taught in Kona, Maui and Honolulu and led Discipleship training Schools in Hawaii, Singapore and Canada. They ministered in the Pacific Islands: in particular, Samoa, Fiji, Cook Islands, Tonga and Vanuatu. Peter was personal assistant to Loren Cunningham (the founder of YWAM and the University of the Nations) for 9 years.
DONNA'S GLOBAL MINISTRY
Donna has felt a special ministry calling to encourage people to listen to God. She has had the privilege of teaching people in many different nations. She has a heart for the youth and for indigenous people. Her heart is for all nations, and for all generations who are hungry for God. She has written a manual called " Listening to God" which has been translated into Korean and Chinese. She has truly ministered and spoken globally: in the Pacific Islands, New Zealand, Australia, many Asian, Egypt, European and South American countries, as well as closer to home in the United States and Canada.
YWAM ASSOCIATES INTERNATIONAL
In 1988 Peter and Donna pioneered YWAM Associates International. They had a burden for the many people who had been involved in YWAM and who returned to their various homes around the globe. They wanted to minister to these YWAM 'alumni', numbering now 3 or 4 million, and enable them to take the Kingdom of God into the spheres in which they lived and worked. Peter wrote the books 'Re Entry' and 'The Last Thing I'll ever Do' for students and staff who had left YWAM. He also wrote a newsletter which was sent virtually around the globe called eTouch and in which Donna also wrote a column about listening to God called 'Donna's Corner'.
DONNA'S CURRENT MINISTRY
After many years of faithful and fruitful service, Peter went home to be with the Lord in 2019. Donna continues to teach faithfully, reminding us that 'there is no retirement in the Kingdom of God.' At her 73rd birthday Loren Cunningham prayed over her and said " I'm going to pray over you the same prayer I prayed over Corrie Ten Boom, that you will be more effective for the Kingdom in your latter years than you were in your former." Previously Donna travelled internationally. Currently, during the pandemic, she is teaching on ZOOM – "Zooming to the Nations", in her words.
When Donna teaches young people she tells them it's not just about them, but that what they do with their lives that affects their children and their children's children. Peter and Donna both had a godly heritage and they have passed on their faith to their children. Two of Donna and Peter's daughters and their husbands were called to serve with YWAM: Laurie went home to be with the Lord in August 2021, but her husband Peter Worrall continues to work with YWAM Associates International, based in Alberta, and to care for their daughter, Ruth, now in her teens, who was adopted from Taiwan. Julie and Vaeluaga Eli minister at the YWAM base in Hawaii. Their other daughter, Michelle is married to Mark West and is ministering in a Christian school in Australia. Donna and Peter's adopted son, Pete, died in 2015. Donna has nine grandchildren, one great grandson and a granddaughter on the way at this point.
PRAYER REQUESTS
"I feel blessed to have been part of the Bethel Community Church Family. Thank you for your prayers and support for almost 45 years. Please pray that I will have wisdom, revelation, discernment and continued good health."
CONTACT INFORMATION
Personal correspondence:
355 29 River Ridge Dr. NW
Medicine Hat, Alberta T1A 8V3
To donate:
YWAM Project Funding
PO Box 57100 RPO East Hastings Vancouver, BC V5K 5G6
Ph: 604.436.4433
http://www.ywamcanada.org/donations.html
E-mail: [email protected]
Psalm 78
 My people, hear my teaching;
  listen to the words of my mouth.
I will open my mouth with a parable;
I will utter hidden things, things from of old-
  things we have heard and known,
  things our ancestors have told us.
We will not hide them from their descendants;
  we will tell the next generation
  the praiseworthy deeds of the LORD,
  his power and the wonders he has done.
He decreed statutes for Jacob
  and established the law in Israel,
 which he commanded our ancestors
  to teach their children,
  so the next generation would know them,
  even the children yet to be born,
  and they in turn would tell their children.
Then they would put their trust in God
  and would not forget his deeds
  but would keep his commands.