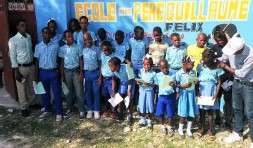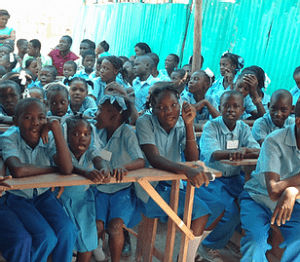 Bethel Community Church has the privilege of sending monthly support to the teachers who work in one of the schools that Peoples Church of God Missions has established in Haïti.
HISTORY
PCG Missions Haiti began in 2003 when Pastor Lamercie F. Ernest, a native of L'Artibonite, Haiti, felt the call of God to go back to her home-town a little beyond the Saint-Marc area and share the Gospel by loving her child-hood community where she grew up. With much prayer, and in partnership with PCGM in Canada, led by her husband, Pastor Gesner Ernest, she started 2 churches, founded 2 elementary schools, initiated breakfast and lunch programs, and an adult literacy work. Pastor Lamercie also began an Annual School Supplies & Distribution drive in addition to working with local church leaders, who were already on the grounds, serving to provide pastoral care and on-going community leadership training.
What started out as a little mission of just a handful of committed family members and friends has now grown into 4 schools of more than 300 elementary to high school-aged students, (and counting!); 12 teachers, a network of nearly 20 churches, 30 rural and urban pastors and lay leaders, a micro-financing goat-breeding project, Camp de Vie summer Program as well as countless counseling and pastoral care sessions! And there is more to be done with near-future goals of starting a medical clinic outlet, and a much-needed new high school!
TEACHER SUPPORT
The backbone of any good educational systems are the teachers. We at PCGM-Haiti are delighted to work with dedicated and passionate teachers. It is primary that we invest in these live resources. We do so by:
 helping to raise their monthly salary support
 provide teacher training through seminars and workshops
 place student teachers from other areas in our schools, to work as interns since PCGM-Haiti's Teacher Support network goes beyond the 4 schools which we help to administer.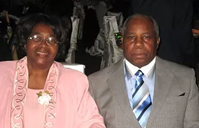 Pastor Lamercie Ernest (L) and the late Pastor Gesner Ernest (R)
TO HELP SUPPORT TEACHERS, CONTACT:
PCGMissions Haiti
1780 Paquette, Brossard, QC, J4W 2Y6
CANADA
450.466.8716
La Mission de L'Eglise du Peuple de Dieu
Pont-Sonde,( L'Artibonite) HAITI
Contact us :
For Information about the
Cross-Cultural Learning Missions Trips
647.859.9783
For General Inquiries:
PCGMissions Haiti Head Office:
450.466.8716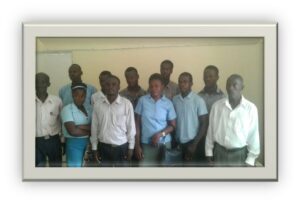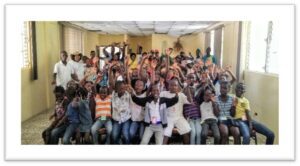 School Staff Team (left)
Camp de Vie Summer Program (right)