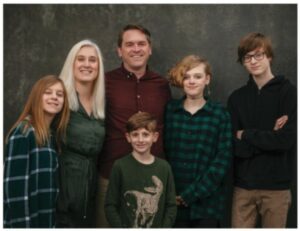 ANDY AND LONI SMITS
Olivia, Zachary, Dahlia and Matthew
Andy & Loni serve with Power to Change – Students in Montreal, where Andy serves as the national director.
Andy & Loni grew up in Ottawa, and actually met in kindergarten! They reconnected in high school, where they started dating in their final year. They became engaged as college students, and were married in 1999.
It was during their time as college students that they were challenged to launch a Power to Change – Students group on their campus, and gained a vision for how God could use them to help other students to discover life in Him. They were part of leading thriving student groups at Algonquin College and Carleton University, and discerned a call to vocational ministry with Power to Change.
They were sent to Montreal in 2004 to help launch the ministry on the campuses in the city, and over the last 18 years, have been part of launching student ministries around the city, starting at McGill and Université de Montréal, then expanding onto the other universities and some CEGEPs. In 2019, Andy was asked to take leadership nationally of the student ministry, where he gives leadership to a team of 170 staff across Canada who operate 70 different ministry programs aimed at helping students take their next steps towards Jesus and His mission.
Andy and Loni live in Pierrefonds, where they are parents to Matthew (17), Dahlia (15), Olivia (12), and Zachary (10).
HOW CAN I SUPPORT ANDY AND POWER TO CHANGE?
· Please pray for Andy, his family and this ministry.
· Attend the monthly missions prayer meeting to keep up to date with P2C prayer requests
· Subscribe to a newsletter, connect with a student etc. at this website address:
· Donate to Andy and Loni at: