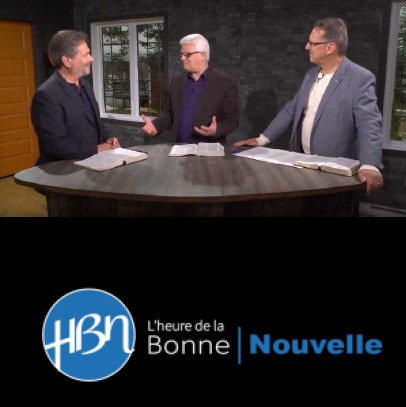 L'HEURE DE LA BONNE NOUVELLE
L'Heure de la bonne nouvelle is a televised Gospel ministry aimed at francophones particularly in Québec, administered by a committee of dedicated Christians, and which, since 1964 has been entirely and uniquely supported by the freewill gifts of God's people. Since approximately 10 years ago, (2011) the programs have also been diffused on HBN's YouTube channel. Over this time they have been accessed in close to 50 countries by 13,000,000 viewers. In 2020 more than 1,250,000 viewers were recorded for their channel. This trend is expected to increase as many francophones worldwide will be reached by the gospel.
WEBSITE:
https://hbn.ca/
YOUTUBE CHANNEL
https://www.youtube.com/results?search_query=l%27heure+de+la+bonne+nouvelle+2021
SCHEDULE OF BROADCASTS
SUNDAY MORNING 7:00 A.M.
Settle down comfortably in front of your television on Sunday morning at 7 o'clock to watch the series «La solution vient d'ailleurs», broadcast on NOOVO (formerly V-Télé).
L'Heure de la Bonne Nouvelle is also broadcast on TÉLÉ MAG on Friday night, Saturday morning and Sunday afternoon.
SUNDAY 1:30 P.M.
FRIDAY 7 P.M.
SATURDAY 6 H 30 A.M.