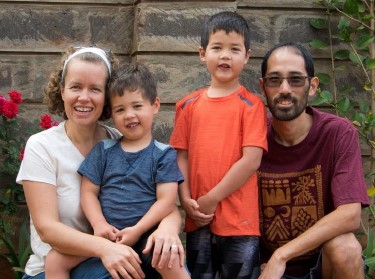 CLAIRE & TOHRU INOUE
SAMUEL (L) AND NOEL (R)
WHO ARE CLAIRE & TOHRU?
Tohru and Claire are currently serving on the South Sudan team with SIM. They live in Nairobi, Kenya due to the on-going unrest in South Sudan.
Here are brief bios:
Claire graduated out of Providence College, south of Winnipeg, and has been with SIM since 1995 in Ethiopia and South Sudan. She started in the Sudanese refugee camps in Ethiopia and then she came to Sudan in 2005 when the repatriation of the refugees in Ethiopia was taking place. In April 2005 she met Tohru Inoue who was working for Samaritan's Purse in the same village. They had a romantic wedding on October 21, 2006 on the beach in Watamu, Kenya. While on home assignment, they were able to celebrate their wedding in British Columbia with both sides of the family and friends. They have been blessed with two boys.
Tohru was born in Montreal. After graduating from McGill University he went to Uganda where he worked with Samaritan's Purse in their water purification programs. The following year, he started work in South Sudan with Samaritan's Purse. After finishing out his work there, he joined SIM and rejoined the work in the region. Tohru is currently serving on SIM South Sudan team along with Claire and their two boys. They play a role in supporting the work of SIM in reaching people in communities where he is least known. They currently support the South Sudan team in the role of communication and discipleship. The team ministries span discipleship, church planting, Bible teaching as well as physical needs such as health care, education and clean water. Their passion is to share the stories of what the Lord doing, not only in South Sudan but in the region.
For current information go to Claire and Tohru's page on the SIM site: https://www.sim.ca/tohru-and-claire-inoue/
HOW CAN I BE INVOLVED?
• Pray! Attend the monthly missions prayer meetings on-line to keep up-to-date.
• Read the Inoue's newsletters. To receive a copy of their inspiring newsletters contact Tohru at the email addresses below.
• Write a letter or email. Missionaries like to hear our news as well so that they can keep in touch.
Contact Information
C/O SIM South Sudan Box 79252 00200 City Square Nairobi, Kenya